I had never heard of a repositioning cruise until The Travelling Boomer posted about it.
Paul Marshman writes an excellent blog, one that's a must-read for me.
Full disclosure. I am not a big fan of cruises for a number of reasons. My style of travel is more seat of the pants. Find a cheap flight and a hotel, and then get out and explore.
But I understand the attractions of cruising. You don't have to lug your stuff to a different place every day or so. You don't have to wonder about the food. And you can be as active or inactive as you like, or you're able. Your accommodations can run the gamut from bare bones to top of the line luxury, depending on your budget.
So, Paul's article sent me down a quite pleasant internet rabbit hole where I discovered a whole new category of cruising.
In a few words, the cruise lines have to reposition their ships for the changing seasons. They create one of a kind cruises in order to move their ships around while still making money. Many of them involve flying to foreign countries (or Hawaii) to voyage back to the US, Canada or some other country.
This one caught my eye because you don't have leave North America, perhaps saving a little money (not to mention long plane trips) in the process. (For some reason, the cruise is listed as Transatlantic, which it obviously isn't, so ignore that.)
Oceania has just come out with an 18 day cruise (May 1-19 2019) on the Regatta (small ship, about 700 passengers) from Miami to San Francisco that stops at nine ports as it travels through the Caribbean, through the Panama Canal, and ending in San Francisco. Fares start at about $4000 per person based on double occupancy, not including airfare.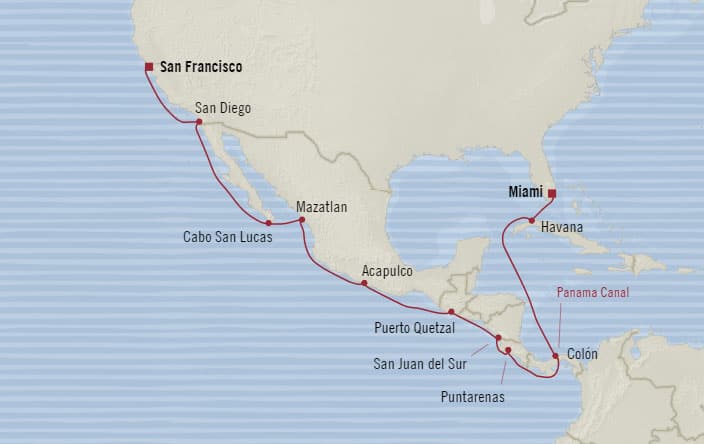 There is a continuation of this cruise from San Francisco, up to Alaska, and ending in Vancouver. This is a 28 day cruise (May 1 – 29 2019) and starts at about $6000 based on double occupancy, not including airfare.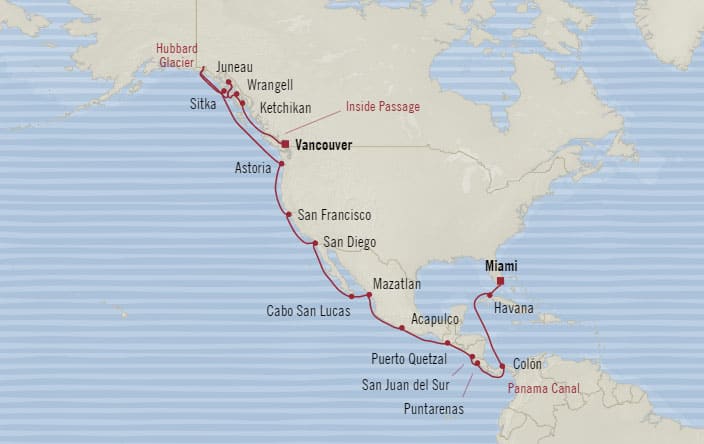 ---
Here's a list of 2019 repositioning cruises.
Spring 2019
Royal Princess
The Trip: 16-night cruise from Santiago to Los Angeles, departs March 7, 2019, and visits Santiago (Chile), La Serena (Chile), Pisco (Peru), Lima (Peru), Puntarenas (Costa Rica), San Juan del Sur (Nicaragua), Puerto Vallarta (Mexico)
The Perks: This wide-sweeping sailing with Princess Cruises explores the coasts of South America, Central America and Mexico as the ship sails north from Chile to the U.S. Eight sea days will allow you to take full advantage of the ship's many offerings, while an overnight call in Lima permits a more comprehensive experience in this lively Peruvian capital. Onboard Royal Princess, you'll find plenty to do like dining at multiple venues (with main dining room dishes designed by Chef Curtis Stone), watching Movies Under the Stars or walking across the glass-floored SeaWalk attraction.
Who Should Go: This is a great pick for adventurous cruisers who want to experience a variety of cultures and destinations. Keep in mind that an international one-way flight to Santiago could be pricy, but it might be worth the cost if you're seeking a longer, far-flung cruise that visits a wide assortment of Latin American destinations.
Carnival Legend
The Trip: 10-night Hawaii cruise from Honolulu to Vancouver, departs April 19, 2019, and visits Kauai, Hilo, Kona, Maui
The Perks: Come along for part of the ride as Carnival Legend makes its way from serving the Australian market (out of Sydney and Melbourne) for the winter season to its Vancouver base for a summer season of sailing Alaska. You'll get to explore five Hawaiian Islands — for which you only have to unpack once — before settling in for a spate of sea days. Legend comes outfitted with all the typical "Fun Ship" accoutrements: a Caribbean-styled pub, piano bar, comedy club, water slides and the Serenity adults-only relaxation area.
Who Should Go: If you want to explore multiple Hawaiian Islands, taking a cruise is a great way to avoid having to plan your own itinerary with multiple flights and hotel rooms. But keep in mind: You must love sea days, as this sailing features five in a row.
Rhapsody of the Seas
The Trip: 14-night transatlantic cruise with Canary Islands from Tampa to Barcelona, departs April 27, 2019, and visits Key West, La Palma (Canary Islands), Tenerife (Canary Islands), Malaga (Spain)
The Perks: This transatlantic sailing from Florida to the Mediterranean includes two stops in the Canary Islands and a large number of sea days as the ship sails the Atlantic. Rhapsody of the Seas is a great place to be if you're spending more than a week crossing the ocean. At-sea activities include outdoor movies, dance classes, cooking demonstrations, rock climbing, game shows and wine-tasting.
Who Should Go: This cruise is suited to travelers who thoroughly enjoy sea days, as the itinerary features nine full days at sea, including seven days in a row. And since it sails from one continent to another, it calls for passengers willing to pony up for open-jaw international airfare.
Westerdam
The Trip: 14-night transpacific cruise from Yokohama (Tokyo) to Vancouver, departs April 28, 2019, and visits Muroran (Japan), Kushiro (Japan), Kodiak (Alaska), Icy Strait Point (Alaska), Ketchikan (Alaska)
The Perks: Tons of repositioning itineraries make transatlantic runs, but it's rarer to come across an interesting transpacific offering. Enter Holland America's spring crossing on Westerdam, which stitches together an itinerary between Japan and Canada's British Columbia, as the ship repositions from Asia for its Alaska summer cruising season. You'll get to explore a trio of Japanese ports, as well as three destinations in Alaska, before the sailing winds down in Vancouver. While a considerable portion of the cruise is spent at sea (eight days precisely), one of those offers guided scenic cruising through Alaska's Inside Passage. That leaves plenty of time to explore Westerdam, which comes outfitted with three live music venues (B.B. King's Blues Club, Lincoln Center Stage and Billboard Online), America's Test Kitchen, The Retreat area with private cabanas and a Rijksmuseum at Sea, featuring reproductions of some of the famed Amsterdam museum's masterpieces.
Who Should Go: Cruisers interested in combining the rich culture of Japan with the wilderness of Alaska can do so via one seamless itinerary. Just keep in mind that a one-way flight to Tokyo for embarkation will surely rack up total trip expenses.
Regatta
The Trip: 18-night Panama Canal crossing from Miami to San Francisco, departs May 1, 2019, and visits Havana (Cuba), Colon (Panama), Puntarenas (Costa Rica), San Juan del Sur (Nicaragua), Puerto Quetzal (Guatemala), Acapulco (Mexico), Mazatlan (Mexico), Cabo San Lucas (Mexico), San Diego
The Perks: This port-intensive repositioning sailing between two happening U.S. cities — Miami and San Francisco — brings passengers to ports brimming with Latin American flavor, along with San Diego, on nine out of its 19 days of sailing. As Oceania's Regatta repositions from the Caribbean to Alaska, explore lesser-visited locales like UNESCO-protected Old Havana and volcano- and lake-coated San Juan del Sur in Nicaragua. Plus, transit the Panama Canal and take in a smattering of Pacific Coast Mexico favorites like Acapulco and Cabo. Onboard, Regatta is noted for its gourmet dining options, touting several specialty restaurants that are included in the rates.
Who Should Go: This trip not only gets cruisers a bucket-list Panama Canal crossing but incorporates a good balance of days at sea with days in port, while taking in a mix of both popular and lesser-known Latin American ports. Best of all, there's no need to buy pricy international airfare, since the voyage starts and ends on U.S. shores.
Thanks to Cruise Critic.
---
Fall 2019
Silver Wind
The Trip: 12-night cruise from Reykjavik to Montreal, departs September 5, 2019, and visits Saint-Pierre (Saint Pierre and Miquelon) and the following Canadian ports: St. John's, Corner Brook, Havre St. Pierre, Sept-Iles, Saguenay, Quebec City
The Perks: As Silver Wind passes through the North Atlantic en route for a series of autumnal Canada and New England voyages, this unique itinerary brings cruisers from Reykjavik to Montreal. Along the way, travelers get to explore some lesser-visited Canadian ports, as well as make a pit stop in France — at least at the French overseas collectivity of Saint Pierre and Miquelon that is. Two days at sea — including one cruising Canada's Saguenay River — afford time to enjoy Silversea signatures aboard the intimate yacht-like Silver Wind, including complimentary cocktails, personal butler service and all-suite accommodations.
Who Should Go: Cruisers looking to combine a visit to Iceland with more off-the-beaten-path Canadian ports will appreciate this rare itinerary. Just be sure to factor in the cost of one-way international flights to Reykjavik and back again from Montreal.
Radiance of the Seas
The Trip: 18-night transpacific cruise from Honolulu to Sydney, departs September 20, 2019, and visits Tahiti (French Polynesia), Moorea (French Polynesia), Bora Bora (French Polynesia), Wellington (New Zealand), Picton (New Zealand)
The Perks: You'll start in Honolulu before journeying to a handful of breezy South Pacific islands. Love snorkeling and roaming pristine beaches? This cruise goes to a trio of French Polynesian destinations in Tahiti, Bora Bora and Moorea. Then it's off to New Zealand, with stops in its hip little capital at Wellington and lesser-visited seaside town of Picton, before winding down in Sydney. And Royal Caribbean's Radiance of the Seas offers plenty to do during the many sea days on this itinerary, from mini-golf and mystery dinner theater to a sports court and outdoor movies.
Who Should Go: Beach aficionados who really like sea days — this sailing has 13 days at sea.
Crystal Symphony
The Trip: 14-night Caribbean cruise from New Orleans to Fort Lauderdale, departs October 25, 2019, and visits Grand Cayman, Jamaica, Curacao, Barbados, Guadeloupe, St. Barts, Turks & Caicos
The Perks: As Crystal Symphony repositions from a season of Alaska sailings to offer a series of fall/winter Caribbean voyages out of Florida, cruisers can partake in an interesting itinerary out of New Orleans along the way, which kicks off with a full day of cruising along the Mississippi River. Then it's off for a robust Caribbean itinerary that includes stops at seven sun-kissed isles, though nearly half of the cruise is spent at sea aboard the revamped ship, a perfect opportunity to sample the Umi Uma eatery by Nobu Matsuhisa, as well as Crystal Cruises' signature enrichment programming, including art and iPad moviemaking classes and guest speakers, as well as active onboard diversions like Nordic walking and golf instruction.
Who Should Go: This cruise is the perfect Caribbean getaway for passengers looking for a tropical getaway bookended by two lively U.S. cities. It's also long enough in duration to propose the perfect balance of both port visits and at-sea relaxation.
MSC Meraviglia
The Trip: 13-night Caribbean cruise from NYC to Miami, departs October 28, 2019, and visits St. Maarten, Martinique, Barbados, Grenada, Curacao, Aruba, Bahamas
The Perks: Get ready to explore the southern reaches of the Caribbean. MSC Cruises is moving its MSC Meraviglia to the U.S. for the first time, where it will homeport in Miami for a full season of Caribbean sailings come fall 2019. En route from Europe, however, it first touches base in NYC, before heading south to Miami on a Caribbean-rich itinerary that takes in seven tropical isles, including the line's private Bahamian island reserve at Ocean Cay. There will also be five full days at sea, ample time to take in the modern ship's impressive offerings, including two ship-exclusive Cirque du Soleil at Sea shows, an Eataly restaurant, LEGO-designed kids' areas and a polar-themed water park touting four water slides.
Who Should Go: East Coast folks, especially cruisers who want to experience more far-flung Southern Caribbean ports. This sailing is a particularly good opportunity for New York-area residents to cruise way south — all you need to get home is a one-way domestic flight from Miami.
---
Find a great airfare anywhere in the world.
And you'll probably need a place to stay.
How to stay in touch and use your smartphone anywhere in Europe.
Need to rent a car? Need travel gadgets, clothes, sightseeing tickets, train tickets? Find it all and more right here.
Zoonie Travel will put together an itinerary for you for just $50 with a money back guarantee. Click here to get started.
Book tours, attractions, and activities online.
If you enjoyed this post and want more, please follow us on Instagram, Twitter or become a fan on Facebook.
**This post may contain affiliate links and Zoonie Travel will be compensated if you make a purchase after clicking on these links.